Overhead Bridge cranes
250 lbs - 160 Tons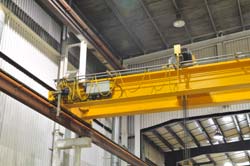 Overhead Crane Outlet has been manufacturing overhead bridge cranes since 1947 and is a leader in the material handling industry. We build every crane to to fit your lifting needs. Our engineers help you make decisions on capacity, speed, and lift that will result in your project being a success. We design and manufacture several different configurations to meet your needs:
Capacities Starting at 250 lbs to 160 tons
Spans Up to 150 Feet
Single Girder, Double Girder, Box Configurations Available
Work Station Bridge Cranes
150 lbs - 3 Tons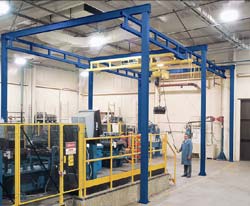 Our enclosed track work station bridge cranes provide full coverage and smooth operation. Our engineers design our work station bridge cranes so that workers can easily handle loads which reduces the risk of chronic fatigue. Overhead Crane Outlet offers two types of work station bridge cranes:
Capacities starting at 250 lbs to 3 tons
Spans Up to 34 Feet
Free Standing and CeilingMounted Configurations Available
Need Crane Parts?
We supply crane parts for all major overhead crane manufacturers Nationwide! Let our parts department work for you. We can be your one stop shop for bridge crane parts saving you valuable time.
Crane Parts
Need a Crane Inspection?
Stay compliant. Have one of our certified technicians complete an OSHA inspection.
Need Crane Repairs?
Having crane problems? Our experienced technicians are on call 24 hour hours a day.
Need Crane Maintenance?
Keep your workforce safe. We offer quarterly service checkups and on-site maintenance programs to keep your equipment running at its best.
Need Your Crane Modernized?
Have an older crane that is hampering production? Contact one of our crane modernization specialists to see how we can save you money.