Dearborn Overhead Crane features a wide range of Electric Hoists.
The Basics - Chain Hoists
Chain hoist are the Volkswagen Beetle of the hoist world. They are simple, basic devices with few options. Much like Henry Ford's Model T, "….any color you want, as long as it's black".
Capacity Range
Although available from 100 lbs to 25 ton, practically speaking, they are at the economic heart between ¼ ton and 3 ton capacity.
Suspension Configuration
Chain hoists are available in:
Hook mount
Hand push trolley
Motorized trolley
Hand push trolley with tractor drive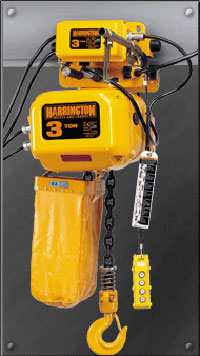 Ergonomic Models
For high production applications, new "ergonomic" models are available that allow single handed operation.
Harrington's ED dual adjustable electric chain hoists are ergonomically engineered for maximum operator comfort & control. These hoists are able to handle awkward loads by providing precise load positioning. Fully-adjustable speed control allows the operator to set the hoist at the perfect speed to handle the job. This model is ideal for workstations or work cells where only single phase power is available.
ED dual adjustable model capacities 125 lb. through 525 lb.
Unique cylinder control for user comfort
High/low speed selection with a variety of high speeds that support fast production needs
Easily installed, transported and stored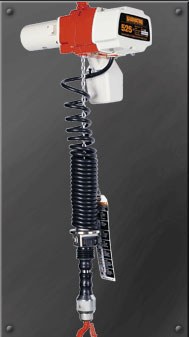 Harrington's ED dual adjustable electric chain hoist
Harrington's AH Mini-Cat Manipulator features a unique, ergonomic control designed specifically for one-handed operation. High speed lifting increases production capabilities and makes this the perfect choice for repetitive assembly lines, workstations and high speed lifting requirements.
Capacities 250 lbs. and 500 lbs.
The manipulator is adjustable for right or left hand operation
Position of manipulator adjusts to operator comfort level
Very fine feathering ability for exact load positioning
Light weight makes this hoist easy to install, transport and store
Low noise levels for operator comfort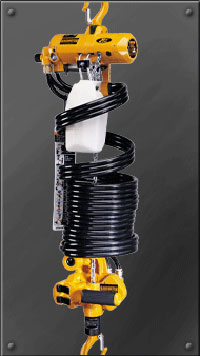 Harrington's AH Mini-Cat Manipulator
The Basics - Wire Rope Hoists
Wire rope hoists can be divided into two main groups.
Package Hoists
Built-up Hoists (called winch hoists in Europe)
The package hoist is probably about 95% of the units produced. The term "package" refers to the fact that the hoist is an "integrated package". In other words, the hoist is made up of a series of "proprietary" parts, designed specifically for the purpose of that hoist. The motor and gearbox are not "off the shelf" products, but specials. All electric chain hoist and most wire rope hoists are "package type" hoists. The economies of scale necessary to make "package hoists" viable requires their target market to hit the high volume/high production segment of the hoist market.
Therefore, "package hoists" excel at:
1/4 to 30 ton capacities
Standard speeds
Normal lift lengths
Standard duty cycles (CMAA class A, B, C, and the low end of D)
Package hoist will excel and be the most economical choice for applications within the above norms. But if you require service outside any one of the four categories, you will experience increase down time, higher maintenance cost and a drastically reduced service life. The farther out of the norms, the worse the performance.
Typical Package Hoist Performance Specs 
Standard configurations include normal headroom, low headroom and double girder trolley designs. Wire rope hoists in short ton ratings (ASME) or metric ratings (FEM) meet a wide variety of application requirements:
1/2 – 75 ton (500 – 75,000 kg) capacities
Lifts starting at 13ft (4m) to 320ft (100m) and beyond
Lift speeds 10/1.5 – 62/10 fpm (3/0.5 – 19/3 m/min)
208, 230, 460, 575/3/60 or 380/3/50 supply
Single reeved or double reeved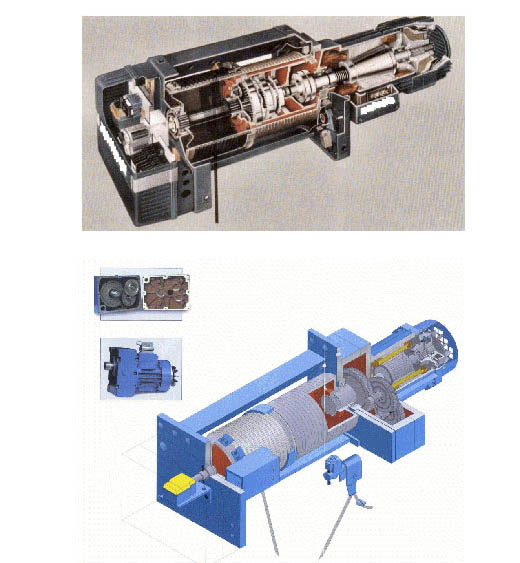 The wire rope hoists shown above, are called package hoists. That is a hoist in which proprietary motors, reducers etc. are used.
Package hoists are typically 1 to 80 tons with the heart of the market being from 1 to 30 ton, normal duty cycle operation.
Where your needs exceed the above listed norms, you should start looking at "Built-up" hoists. A "Built-up" hoist is designed specifically to handle those special applications where the needs exceed the norm. It should be noted that built up hoists can be as low as 3 ton capacity, when special speeds, duty cycles or long lifts are required, but normally they are not common until you get to 20 ton and above.
Above, is a "Built-up" hoist. This is a hoist in which standard "off the shelf" components are used. The place in which built-up hoists are use is:
Heavy Capacities, especially over 30 ton capacity
High speed applications
Long lifts (long motor on time)
Heavy usage applications, high production, maintenance intensive applications (CMAA class D, E, and F)