Dearborn Overhead Crane Bridge Crane Kits
Modular Crane Kits
Crane packages are pre-engineered, complete crane component packages utilizing cutting edge technology including the innovative electric wire rope hoist. Variable frequency drives are standard on trolley and bridge motions for smooth starts and stops. Plug-in electrical cabling and bolted structural connections simplify assembly.* The package includes virtually everything but the bridge girder.
Electric Wire Rope Hoists
The electric wire rope hoist represents a revolutionary new generation of exceptionally reliable electric hoists, featuring advanced technology and cutting-edge performance.
An innovative design that includes a large drum diameter gives wire rope hoists the lowest headroom and best wheel loads in the industry, while providing near true vertical lift with single reeved hoists, and both exceptional hook approaches and heights of lift. Unique features include new low maintenance, sealed brakes; a two-speed hoist motor; and trolley inverter control. A NEMA 4 type control enclosure is also standard. Hoists are designed to meet and exceed either ASME H3 or ASME H4 duty (FEM 1Am, 2m or 3m) ratings and provide the ultimate in easy load handling, safe operation and lasting, trouble-free performance.
Standard configurations include normal headroom, low headroom and double girder trolley designs. Wire rope hoists in short ton ratings (ASME) or metric ratings (FEM) meet a wide variety of application requirements:
1/2 – 75 ton (500 – 75,000 kg) capacities
Lifts starting at 13′ (4m) to 320′ (100m) and beyond
Lift speeds 10/1.5 – 62/10 fpm (3/0.5 – 19/3 m/min)
208, 230, 460, 575/3/60 or 380/3/50 supply
Single reeved or double reeved
EASE OF OPERATION
Large-diameter R&M hoist drum means easy positioning, closer approaches

The larger rope drum diameter provides nearly true vertical lift with a single reeved hoist. – only 1/8″ or drift per foot of lift. The result is exceptionally smooth movement and fast load positioning. This innovative design also means a shorter frame length, allowing closer end approaches.

R&M Hoist and trolley motors designed for space savings and productivity

The standard two-speed hoist motor (6:1 ration), designed specifically for hoisting applications, offers high starting torque and ensures precise and reliable load handling. This motor is class F insulated, 30 minute rated (60% effective duty), thermally protected and totally enclosed. Inverter control is available as an option.
SAFETY
Safety features others don't offer—or offer at extra cost, are standard
An electromechanical weight overload limit switch prevents the lifting of loads that are in excess of 110% of rated capacity. The 4-position hoist limit switch includes a new phase mismatch protection circuit that prevents the block from running up and damaging the hoist in the event of phase reversal.
LESS MAINTENACE
Low maintenance Brake — means long-term value
Sealed, dust-proof brakes on the trolley and hoist motors require little adjustment for over a million cycles.
LONG LIFE
Larger hoist drum — minimizes rope wear
A drum/rope diameter ratio of approximately 40:1 minimizes rope flex, reducing wear and extending rope life. The drum's large capacity also contributes to a reduction in frame size and weight, reducing wear on hoist components and enabling the use of more cost-effective crane girders.
Wire Rope Hoist with Double girder trolley
Superior clearance and headroom for double girder applications.
Wire Rope Hoist with Normal headroom trolley
An ideal selection for monorails and jib crane applications. Hardened wheels for patented track applications are also available. (Shown with optional second holding break.)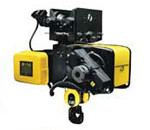 Wire Rope Hoist with Low headroom trolley
The best solution for single girder cranes; it's compact design provides maximum space-efficiency.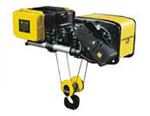 Crane Controls - standard features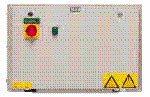 Standard inverter offers two step or infinitely variable speed control
CSA approved NEMA 4 type rated control enclosures
Mainline disconnect switch (mounted in door)
Mainline contactor
Plug-in connections for easy assembly and maintenance
115 Volt transformer with fused secondary
PVC flat cables are UL listed and CSA approved with a temperature range of -31F to +221F (-35C to +105C).
Suspended from galvanized steel C-track.
Plug connections on cables make installation, repair and replacement simple and fast, saving both expensive down time and the cost of an electrician.
All movements can be controlled from convenient, easy-to-reach plug-in pendant and push-button station (8 button station including emergency stop button).
Independent C-track for pendant station allows operator to be positioned at a safe distance from load trolley wheels.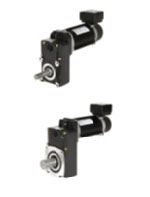 Fully enclosed gear units are specially designed for crane applications to ensure many years of trouble-free operation.
Modular design includes gearbox, motor and brake for ease of maintenance.
Totally enclosed, Class F, 30-minute insulated motors.
Motor brakes.
Brakes are normally closed. If power fails, brakes will stop further travel.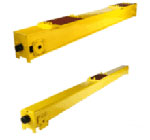 R&M's end trucks are capable for CMAA Class C or Class D duty.
(for top running bridge cranes) Models
Heavy-duty box construction.
All wheels double-flanged.
Rotating axle drive wheel. (Optional on idler wheel.)
Standard wheels are flat tread ductile iron (approx. 280 BHN).
Equipped with rail sweeps and bumpers.
Mates with GES Bridge Drives.
(for under running bridge cranes) Models
Constructed of structural steel.
Ductile iron single-flange wheels (approx. 280 BHN).
Individual trucks adjustable for various flange widths.
Easy access to wheels for maintenance.
Antifriction permanently lubricated bearings.
Equipped with bumpers and drop lugs.
Patented track wheel option.
Mates with DS bridge drives.
Dearborn Overhead Crane Sales Literature on Crane Kits.
Dearborn Overhead Crane Warranty Information on Crane Kits.
Dearborn Overhead Crane Technical Specifications on Crane Kits.