About Dearborn Overhead Crane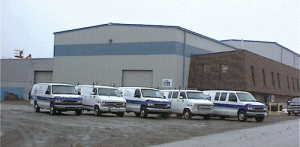 Dearborn Overhead Crane has been and continues to be a family owned business. The Dearborn family continues to grow and support the needs of our customers for new cranes from 100 pounds to 100 tons. As an ISO 9001 compliant crane builder, we assist our customers in the design , manufacture, installation and start-up phases, for overhead lifting projects across the US.
Our support continues with our 24-hour emergency service, parts, OSHA periodic inspections, preventive maintenance, operator training, maintenance manuals and crane seminars.
Our "stock in trade" is our experience. Basically everyone has the same motors, steel and bearing, but we have over sixty years of experience that can help you get the right motors, and the right bearings. No more, no less.
Give us a call and let us put our experience to work for you. We look forward to meeting with you and completing a needs assessment. Call 1-800-CRANE58 to contact us with any questions or service requests.