Dearborn Overhead Crane represents most every major electric chain hoist manufacturer available. We can provide electric chain hoists in any configuration available, whether you need a chain hoist utilizing lug, floor, ceiling or trolley mounting, we can provide it for you.
We provide:
Electric Chain Hoists
Air Operated Chain Hoists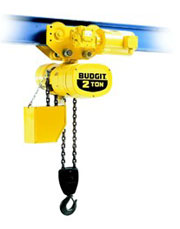 Budgit Electric Chain Hoists
For over 60 years, BUDGIT® Electric Chain Hoists have been designed and manufactured for tough jobs. Since 1935, BUDGIT® has led the industry in innovation, quality and dependability. These compact, lightweight, economical hoists are built to withstand the rigors of heavy service and repeated lifting cycles. They are easy to service, require minimal maintenance and offer excellent headroom.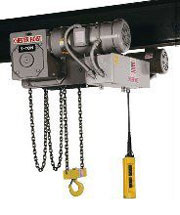 Chester Electric Chain Hoists
Chester Electric Low Headroom Chain Hoists are designed for those applications where headroom is limited. Engineered around proven designs, these hoists provide smooth, quiet trouble free operation in a variety of Class III applications. The units are equipped with worm drive gear reducers, case hardened load chain and are available in capacities from 1 through 25 tons. Choices of lug mounted, push/pull, hand geared or motorized trolley drives are available to meet a variety of applications.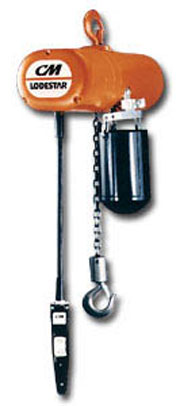 CM Electric Chain Hoists
CM Electric Chain Hoists Hoists, Chain, and Forgings marketed under the CM Brand are recognized for durability, reliability, and toughness. Powered and manual hoists are known for dependable operation and are widely accepted in practically any industry. Chain and forgings provide peace of mind to riggers and hauling professionals due to the stringent manufacturing and testing processes that the products must endure.

Coffing Electric Chain Hoists
Coffing Electric Chain Hoist offers high performance hoists engineered for heavy duty, industrial service. Known the world over for reliability, the Coffing EC, Coffing JLC, Coffing SLC, Coffing EMC and Coffing LMES (Little Mule) incorporate a host of outstanding features.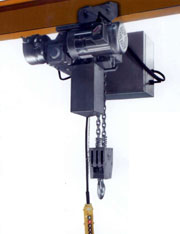 CM Electric Chain Hoists
David Round & Son is a leading supplier of Chain Hoists. They offer Stainless Steel Powered Chain Hoists which are corrosion-resistant hoists ideal for sanitary processing environments. All 1/2, 1 and 2 ton models are h4 rated and built almost entirely from stainless steel. The Standard Electric Powered Chain Hoist are ideal for medium-duty service on jib and gantry cranes.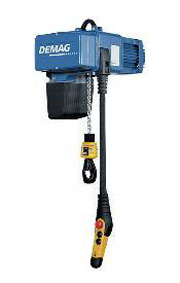 Demag Electric Chain Hoists
The Demag DC-Pro Chain Hoist enables you to achieve high productivity by means of smooth and sensitive handling. You can operate the DC-Pro in two variants: as the DC chain hoist with a DSC control pendant or as the DCM-Pro Manulift for quickly handling loads with only one hand. A variety of proven load handling attachments facilitate optimum and flexible adaptation of the chain hoist to meet the needs of your application.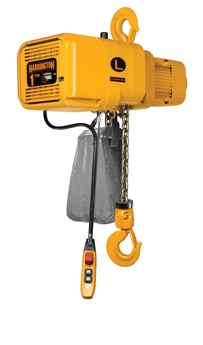 Harrington Electric Chain Hoists
Recognized as a market leader and innovator in the hoist and crane industry, Harrington Hoists, Inc. provides a wide variety of lifting solutions for many industrial applications. Our top quality products include electric and air powered chain hoists and trolleys, electric wire rope hoists and trolleys, lever hoists, manual hand chain hoists, push and geared trolleys, overhead cranes, crane accessories and a full line of replacement parts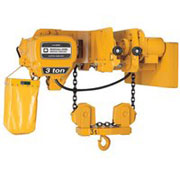 Ingersoll-Rand Electric Chain Hoists
Ingersoll-Rand's complete line of worm gear driven electric and air low headroom hoists provide smooth, quiet, trouble-free operation. Tested in accordance with ANSI B30.16 overhead hoist standards. Available in 1/4 – 24 US Ton Lifting Capacites.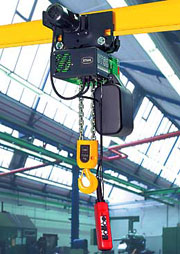 Stahl Electric Chain Hoists
Stahl Reliable Chain Hoists can be used universally in the S.W.L. range of 125 kg to 5,000 kg. Stahl has compiled seven best-selling chain hoists from the ST range, the world's most distinctive and comprehensive chain hoist program. The advantages for you: a quick survey of our standard range, a prompt decision for a quality hoist from Stahl CraneSystems, speedy delivery, and above all low costs.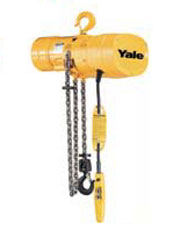 Yale Electric Chain Hoists
Yale's momentum that started over a century ago continues today. Yale hoists are used in every country of the world in every kind of application imaginable. Quality, time-tested hoists for standard and special applications are the hallmarks of Yale. Well into its second century of existence, Yale, an ISO9001 certified Company, is committed to maintaining the role as industry innovator and leader.