Motorized Gantry Cranes
1/2 Ton – 15 Tons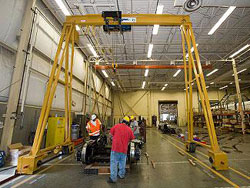 Our Light Duty Gantry Cranes are fabricated and welded to provide precise load positioning for medium to heavy loads. They are ideal for applications that require an economical, versatile lifting solution. If your facility can not support an overhead bridge crane a light duty gantry crane is the perfect solution.
These gantry cranes are self-supporting and travel directly on the floor. Our Light Duty Gantry Cranes come with a power drive system that includes polyurethane (trackless) or V-groove wheels. A light duty gantry crane can easily be moved from one location another if you rent or lease your facility.
Design Specifications
Standard Capacities 250 Lbs – 15 Tons
Standard Spans to 40 Feet
Motorized Pre-Engineered Gantry Cranes
1/2 Ton – 15 Tons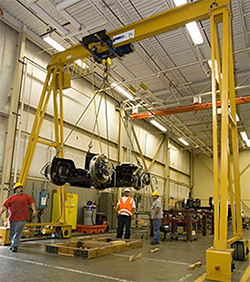 Motorized Gantry Cranes ride on the ground rather than an overhead runway, which often results in savings directly passed on to the customer.
Because gantry cranes typically ride on the ground, you do not need to install an overhead runway system. Installation of a gantry crane often is simple and fast because no overhead structure is needed.
Less Expensive than an Overhead Bridge Crane
Factors to consider when determining whether a motorized gantry crane is the most cost effective solution for you company
Your building or facility is currently under lease and a major investment in overhead runway structure is not reasonable.
Your company may be planning to relocate eventually and the cost to relocate a gantry is far cheaper than moving an overhead bridge crane system.

Your material handling process requires you to move loads inside and outside of your building.

You require a long runway and purchasing 100 feet plus of runway for an overhead bridge crane is not as practical as purchasing 100 feet plus of gantry rail. 
Our Brands: