Dearborn Overhead Crane represents most every major wire rope hoist manufacturer available. We can provide electric wire rope hoists in any configuration available, whether it be single hook, twin hook or multiple hook models utilizing lug, floor, ceiling or trolley mounting, we can provide it for you.
We provide:
Electric Wire Rope Hoists

Package hoist capacities up to 80 tons
Built up hoist capacities up to 500 tons

Air Operated Wire Rope Hoists
Featured Hoist Brands
Listed below are feature hoist brands that Dearborn Overhead Crane can supply to meet your needs.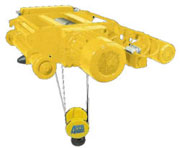 Acco Wire Rope Hoist
Acco Wire Rope Hoists the design results from years of material handling engineering and manufacturing knowledge and experience-utilizing space-age techniques and materials while retaining the superior design features and quality of current hoists.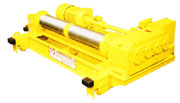 Ace World Companies Wire Rope Hoist
Ace World Companies Wire Rope Hoists build to last and packed full of horsepower, the Ace World Companies Hoist with top-running trolley is in a league of its own. This state-of-the-art lifting machine is tough enough to conquer today's most demanding applications. So why waste time with inadequate package hoists when you can terminate the competition today.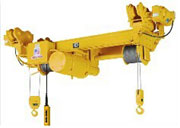 Chester Wire Rope Hoist
Chester Wire Rope Electric Hoists feature worm gear drives for quiet, smooth, reliable operation. These hoists are available in single hook, twin hook or multiple hook models for lug, floor, ceiling or trolley mounting. Capacities from 1 to 15 tons in a variety of configurations are available to provide virtually trouble free operation in every type of application.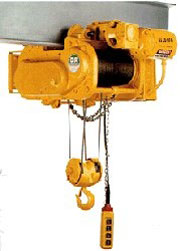 David Round & Son Wire Rope Hoist
Coffing Electric Chain Hoist offers high performance hoists engineered for heavy duty, industrial service. Known the world over for reliability, the Coffing EC, Coffing JLC, Coffing SLC, Coffing EMC and Coffing LMES (Little Mule) incorporate a host of outstanding features.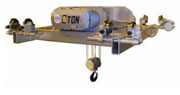 Detroit Wire Rope Hoist
For almost a century Detroit Hoist has designed and manufactured wire rope hoists. Detroit Hoist is committed to providing top-quality, state-of-the-art hoists and crane components. Customer satisfaction is paramount for our continued success and we are striving to be the best at what we do and to deliver what we promise.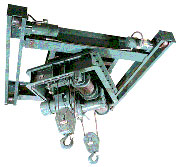 Electrolift Wire Rope Hoist
Electrolift is the oldest manufacturer of wire rope worm driven hoists in the world, highly innovative and a step ahead of the competition since the company was founded in 1932. Engineered and manufactured to be tough and reliable, today the product line has grown to Single Hook, Twin Hook, Base Mounted and Specialized Hoists that meet every type of application requirement. Customers who demand the very best receive a manufacturing integrity that begins with tried and true reliable designs and ends with installations that operate for decades with minimal maintenance, virtually eliminating downtime.

GH Wire Rope Hoist
For nearly 40 years, GH has been manufacturing hoists and other lifting equipment. During this time we have made more than 40,000 installations, from which we have gained valuable experience. The new range of GH hoists have been designed with the following principles; reliability, security, durability, price and easy maintenance. The design is rectangular, modern, and compact with perfect dimensional balance.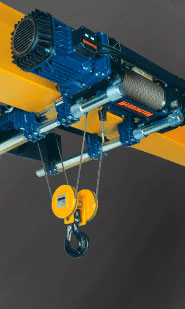 Harrington Wire Rope Hoist
Harrington's RH-Advantage Program offers the most popular wire rope hoist models, free shipping within 48 hours and a competitive price. These top-quality trolley hoists have an ultra-low headroom configuration that provides the lowest headroom possible by positioning the trolley parallel with the beam.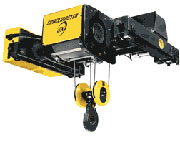 R&M Wire Rope Hoist
The R&M Spacemaster® SX represents a revolutionary new generation of exceptionally reliable electric wire rope hoists, featuring advanced technology and cutting-edge performance. An innovative design that includes a large drum diameter gives Spacemaster® SX hoists the lowest headrooms and best wheel loads in the industry while providing near true vertical lift with single reeved hoists, and both exceptional hook approaches and heights of lift.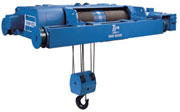 Shaw-Box Wire Rope Hoist
Shaw-Box, the leader in overhead material handling since 1878. With over 123 years of experience in overhead material handling and the broadest product line in the business Shaw-Box can fill all of your crane and hoist needs. From a 1/2-ton wire rope hoist to a 100-ton capacity trolley/hoist, single or double girder, top or under-running cranes to 100 tons and spans to 120 feet, electric or air-powered, indoor or outdoor duty, general or severe industrial service, for standard, corrosive or explosive environments Shaw-Box has the products to fit your overhead material handling requirements.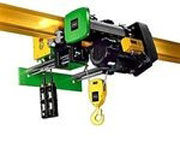 Stahl Wire Rope Hoist
Stahl's Model SH Electric Wire Rope Hoist brings the new generation of hoists to the market. It is designed to meet today's rigid space requirements and at the same time maintains the quality and reputation developed by STAHL during the last 100 plus years of experience. SH Hoists provide a sturdy product quality.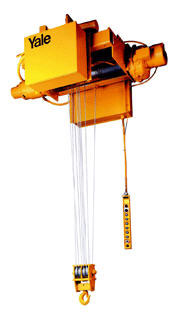 Yale Wire Rope Hoist
Yale's Cable King includes 1/2 to 35 ton, single and double reeved hoists that operate with all trolley suspensions: Winch, deck mount, top running configurations. They also have hazardous duty, explosion-proof models and can do custom designs that include a full line of accessories.